EVENT
E-Waste World, Metal Recycling, Battery Recycling Conference & Expo
Frankfurt Messe, Germany / 28 - 29 June 2023
E-Waste World Conference & Expo, co-located with Battery Recycling and Metal Recycling, is the world's leading event for recycling and recovering Critical Raw Materials (CRMs) from various consumer and industrial waste streams.
E-Waste World I Battery Recycling I Metal Recycling 2023 will take place from 28-29 June 2023 at Messe Frankfurt, Germany.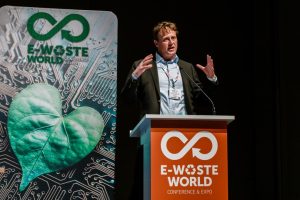 Returning to Frankfurt Messe for the second time, but it its fourth edition, E-Waste World Conference & Expo has established itself as the must-attend event for recycling companies, CRM suppliers, and the entire consumer electronic sector. E-Waste World, together with the Battery Recycling Conference & Expo and Metal Recycling Conference & Expo, offers attendees a highly comprehensive two-day event focusing on recycling end-of-life electronics, batteries, and metals all in one place.
Peter Sarno, Event Director, commented: 
"This year's event will see continued success from the previous editions whilst adding new and exciting elements that will offer our attendees even more to see and discuss than ever before. During the past 12 months, the world has seen how demand for critical raw materials has grown exponentially, and supply chains cannot keep pace. Recycling is highly beneficial to reducing waste and lowering carbon emissions. But it will also offer the opportunity to help secure the supply of critical raw materials and to help manufacturers build supply chains that are part of a circular economy and are kinder to the environment. 
"CRMs are crucial for the global economy as they are linked to most industries across all supply chain stages, particularly to meet the growing demand for batteries and modern technologies. However, CRMs are becoming increasingly more difficult to obtain. There are also environmental impacts to sourcing them and to electronics, battery, and metal waste.
"This year's event will showcase hundreds of solutions to help mitigate those challenges, covering collection and take-back strategies, circular electronics, raw materials, design for recycling, sorting solutions, urban mining, IT asset disposition, and recycling of industrial, commercial, and post-consumer electronics. We want to ensure industries continue to progress and are not held back in the future and minimise environmental risks."
Frankfurt has been the host city since 2021, and the facilities and travel connections make the venue a popular destination amongst exhibitors and visitors. Co-located with the newest events to the Trans-Global Events portfolio, Battery Recycling and Metal Recycling in their first cycle, will complement the theme of the 2023 conference and expo on a single platform for waste innovation in the recycling sector.
Over 100 international solution providers are lining up for the occasion, with suppliers such as StoneX, URT, Aurubis, Steinert, Kuusakoski fully committed to showcasing their products to 1,500 attendees. 
Enhancing the visitor experience at E-Waste World 2023, the show will feature a new Start-Up Zone for growing SMEs to highlight the current opportunities across the recycling, disposal, or recovery of electronic, battery, metal and CRM waste industries.
Visit the event website, which features the latest event information, an up-to-date exhibitor list, interactive floorplan, and visitor information online – https://ewaste-expo.com.
Visitor registration is already open; participants can secure their free Expo Passes or Early Bird Conference tickets via the website: https://ewaste-expo.com/register-to-attend/